the other day i was on the phone with a friend of mine, who also lives in the delmar. and she was telling me that she had just torn apart her bathroom and painted it. the toilet bowl and everything... she said "well, if i'm going to be here for a little while- i might as well enjoy it."
so i decided i wanted to enjoy my apartment too. and have had all these things i have wanted to hang but have never gotten around to it- well saturday was a work day for me. our apartment is spic and span! and the walls are definitely decorated. and i kind of felt super awesome.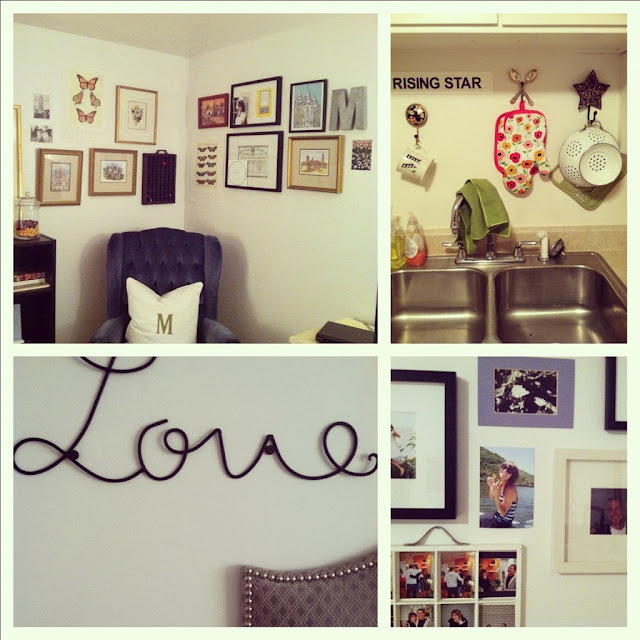 we are all ready for back to school!
and like always youknowyouloveit
and they're pretty funny today.
-the brazilian man we ran into at lunch and then listened to him tell us 45 minute stories about his dogs. He brought his computer over and everything. And then crouched down to pet kira's dog hallie and we all noticed the very large hole in his crotch and his beautiful tighty whitties.
-tiger woods at the Stanford game being very close to us, and jeff decided to yell "trow me your hat!" yes. That is what he yelled to tiger woods. good one jeff.
-people in my ward don't recognize me unless I'm in church clothes.
-lonely island-jack sparrow and another one with akon.
-I walked into our bedroom and caught jeff red-handed kinda shoveling things he didn't know where they went under our bed...
-when I clean the apartment jeff says I hide his things. He says that since I cleaned I know where it us, and he doesn't.... The other day "it" was a slipper. So I told him to look in all the places we put shoes. And then guess where I found it.... Under the bed.

-as we were watching the kardashians, jeff asked me how long i thought they were going to be married, and i told him forever.

-i heard THE BEST STORY about my dad the other day. we were talking about our upcoming hawaii vacay with the family and whether or not we wanted to go to pearl harbor, and my dad was adamant about doing it. and i was so confused cause i was pretty sure my parents had already been. and then i discovered that the reason he wanted to do pearl harbor so bad was because the last time they did it, he got kicked out! aparently as they take you on the boat you ARE NOT ALLOWED to use your cell phone. well my dad got a phone call that he thought he could sneak. but he couldn't. and was told by the guide that he had his warning and he couldn't get off the boat. so he couldn't. and i about DIED laughing. it is probably my most favorite story ever!