The other day a couple of us wives were at the park and heard kids saying they had seen a turtle. So we went over to the lake and were looking everywhere for the turtle and then hello turtle. Apparently they are snapping turtles so we couldn't go pick them up.
...and yes, I filmed them.
In this tree is a little black bird, that looks kind of like a miniature crow. This bird attacked me three times. I couldn't get close enough to get a picture.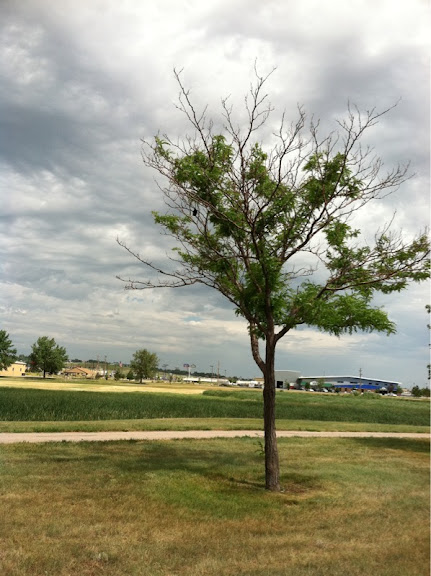 Story.
I have been running on this little lake path a couple times now and I have noticed these birds that are
uber
loud- black with orange spots on their wings (useless information).
Anyways, today I was running and it was sort of windy so the first incident I thought was obviously an accident. But when it happened two more times...
This bird swooped on me and
squaked
at me!
I heard wings flapping rapidly and looked up and saw it saw it a foot above my head, then it flew away. Thought that was the accident.
Then on my second loop it was following me by trees. And came at me once literally almost landed on my head and then came at my again. So I sprinted away!
Oh and this is ferret. One of Jeff's co-workers got a pet ferret. So we went over to see it. I have never held a ferret before- it was a fun thing to do. They are actually pretty cute.
also, funny story- Jeff got attacked by a dog on Saturday.
An hour after he left, he came back all flustered with a dirty mud shirt, a hole in his shorts, scrapes on his arm, hand, and stomach.
Apparently sheep dogs aren't very nice and force you into a run and then a fall down an uphill rocky driveway. Don't worry no dog bites or stitches. Just some tender loving care helped him out and he was back on his way.
Poor babe with his battle wounds.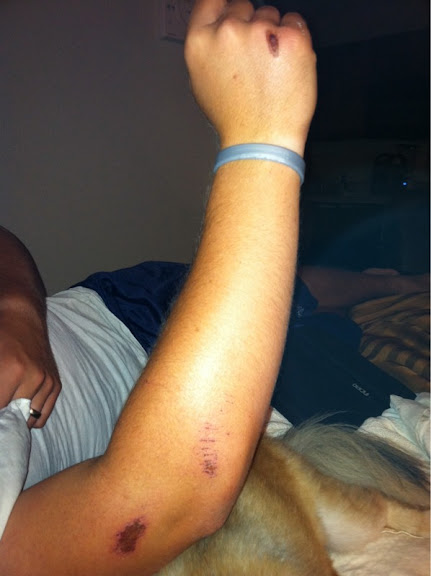 did I just make this blog rated R for posting blood and guts? oops sorry.
And then we discovered this little precious underneath a car, kinda. It was actually up in the engine. After a long time of "here kitty kitty." she was finally rescued. Then lost again, and chased through the parking lot, then rescued again. I decided to name her Gillette. Even though Ashlyn, five years old, wanted to name her Elise... Tomorrow we are takin her to the animal shelter. She is totally cute and will hopefully get adopted... By me.
Yeah, I dunno- the lady at the front desk wanted to give her hot dogs??
To read more on our tender hearts and my deep love for animals look
here
... don't worry this isn't like a link to the Humane Society. haha
Obviously I'm doing my part to stop animal cruelty... are you?